Summary completionin the IELTS listening test is often more difficult than it should be. This is how it might appear: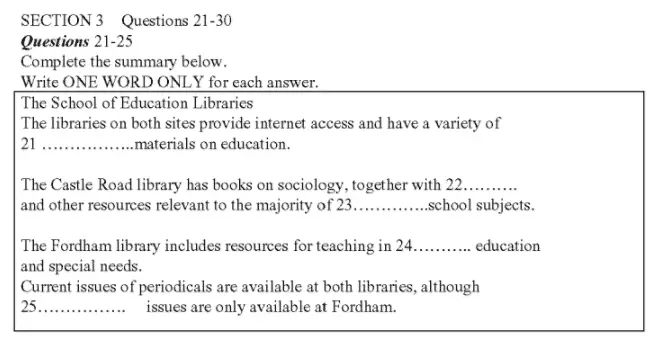 Below is my step by step guide on how to do IELTS summary completion questions:
1.Read all of the question instructions carefully and check if there is a word limit.
2.Read the summary you are given to get a general idea about what it is about.
3.Use this information to consider the context and predict what you are going to hear.
4.Think about synonyms and paraphrases that may have been used to generate the summary do far.
5.Predict possible answers that could fill in the gaps.
6.Fill in the answers as you listen.
Tips and Tricks
This question type tests your ability to use synonyms and paraphrase efficiently. This is a crucial skill for anyone going to a university in an English speaking country who might need to make notes in a lecture.
Read the text before listening and try to get a good idea of what it is about so that you are aware of what you are going to hear. The sentences that you read will be a summary of the the recording. Try and guess what the next part of the recording will be about, this will make sure you are ready for it and that you hopefully do not miss any answers.
You can use your knowledge of grammar to try and guess what words/word types might fit in the gaps. Is it likely to be a verb, noun or an adjective and so on? The context of the sentence should help you do this too.